September 15, 2021
-The College Fix
The president of Muhlenberg College on Monday publicly apologized for its 2010 production of the operetta "The Mikado" and deleted all photos of the performance from its website.
And although President Kathleen Harring's Sept. 13 apology statement did not mention it by name, the theater department also apologized for its 2004 production of the musical "Annie Get Your Gun" in its footnote on "racial stereotypes and deleted photos."
"While these shows were performed more than 10 years ago, it is important to acknowledge the impact that the use of racial stereotypes had — and continues to have — on members of the Muhlenberg community," Harring stated.
"Specifically, we were made aware of a 2010 production of The Mikado at Muhlenberg Summer Music Theatre which featured examples of yellowface and a related photo gallery of the performance that was on our website. We removed the images and we provided a footnote explaining the reason for this action."
Muhlenberg is a private college in Pennsylvania well known for its theater arts programs, but in the wake of George Floyd's death, in June 2020, its Department of Theatre and Dance was accused of racism.
A lengthy protest letter co-signed by hundreds of students and alumni charged that examples of racism included an all-white cast in the 2019 production of "The Importance of Being Earnest."
The letter also cited that year's "Into the Woods" production, which "only managed to cast a few students of color and one of these students was cast as The Wolf, a distinctly predatory, animalistic character that unfortunately played into historical tropes of black and brown people being hypersexual and aggressive, particularly towards white women."
"…Muhlenberg students are all too aware of the lack of productions that centralize around the experiences of people of color," the letter continued. "Although we are grateful for the recent production of A Raisin in the Sun put on to celebrate Black History Month and for hiring a Black director to lead it, this shouldn't be an exception or an irregular occurrence."
The letter also addressed "the lack of classes centered around Black theatre and performance," reports the Muhlenberg Weekly.
In response, on June 17, 2020, faculty with the Department of Theatre and Dance launched a massive anti-racism effort and curriculum.
"The white faculty and staff members of the department pledge to undertake the personal and collective work necessary to ensure the establishment of anti-racism and the confrontation of anti-Blackness as fundamental departmental values and practices, and to begin to restore your trust in them as artists, educators and leaders," its members stated in an "accountability" response memo.
The professors pledged to embed critiques of whiteness, more non-Western works, and additional performances and lessons for black, indigenous and students of color, as well as detail on their syllabuses how their classes will be actively anti-racist. They also agreed to use "equity advocates" in decisions surrounding faculty hiring and casting and performance selections.
Fast forward to today, and Muhlenberg's fall 2021 performance schedule starts off with the play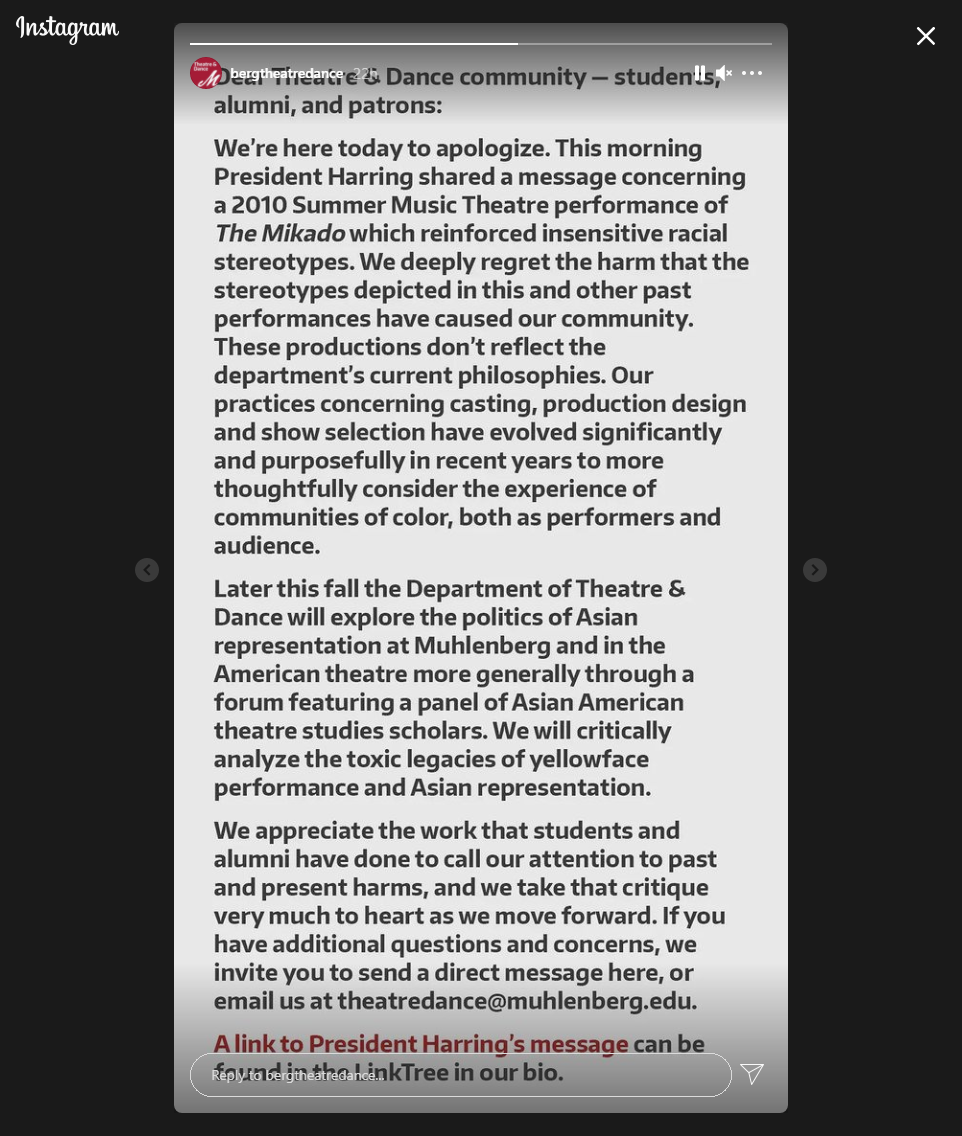 "En El Tiempo de la Mariposas," followed by a "queer deconstruction" of William Shakespeare's "Romeo and Juliet."
As for the "The Mikado," it has been canceled before. A 2015 production by New York University's Skirball Center for the Performing Arts was shut down due to accusations of "yellowface" and racism against Asian Americans.
"'The Mikado' was set to be performed by primarily Caucasian actors; most of the characters, who are generally Japanese courtiers and their servants, were to be dressed in costumes and wearing make up evocative of Japanese culture," NBC reported about the Skirball production.
"… In a response posted on its website, the New York Gilbert & Sullivan Players said the opera was meant to be a satire of British society, and that the organization had taken steps to maintain authenticity 'without caricaturing [Japanese culture] in any demeaning or stereotypical way.'"
A spokesperson for Muhlenberg College, the faculty advisor to the college's Asian Student Association, and the former chair of its Department of Theatre and Dance, did not respond Tuesday to an emailed request from The College Fix seeking comment.
But the department posted a message on Instagram (pictured).
The situation at Muhlenberg College is not unique. Scholar Heather Mac Donald has published a series of articles over the last several months on how anti-racism has taken over the arts in higher education and the professional music scene, most notably within classical music.
Asked about Muhlenberg College's decision on "The Mikado," Mac Donald told The College Fix via email that the operetta "contains some of the greatest melodies in the Gilbert and Sullivan canon, such as 'A Wandering Minstrel I.'"
"It's also hilarious — listen, for example, to the Lord High Executioner's patter song listing the social scourges and bores he is planning on knocking off," she said.
"While 'The Mikado' incorporates patently non-serious Asian stereotypes, what the left does not get about Gilbert and Sullivan is that the satire is directed at the pretensions and jingoism of Victorian England. The foreign settings are just a cover for lambasting the Brits."